A life-long Idahoan, Kate McAlister is a 30-year resident of Sandpoint. Since she made her way to Sandpoint more than three decades ago she has loved being a part of this amazing community.
Kate was elected to the Sandpoint City Council in 2019 and is finishing her first term. She's currently the Council President.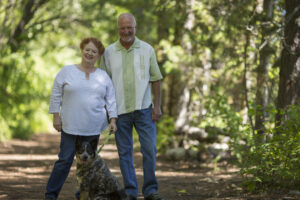 Professionally, Kate has more than 35 years of leadership experience and is serving her 13th year as President and CEO of the Greater Sandpoint Chamber of Commerce. She enjoys being an advocate and promoter for business owners and prospective entrepreneurs throughout this time.
She was instrumental in Sandpoint receiving the 2011 Most Beautiful Small Town in America award sponsored by Rand McNally and USA Today. Kate also led the Sister City initiative when Nelson, B.C. became Sandpoint's Sister City in 2013.
Prior to her tenure at the Chamber, Kate worked at Itron, Inc., in Liberty Lake, Wash., as the Community Investment Manager, commuting from Sandpoint for over 15 years.
Being involved in the community is important to Kate, and she works hard to grow and sustain our reputation as a caring and supportive community. In doing so she willingly donates her time to a number of community organizations, including the following:
Sandpoint City Council 2020-present; current Council President
Selkirk Fire JPA Commission 2021-present, Sandpoint representative
Angels Over Sandpoint 2001-present, Board of Directors | President, 2003/04, 2018/2019
International Selkirk Loop 2011-present, Board of Directors, USA board chair
Sandpoint Human Relations Commission 2012-present
Forrest Bird Charter School 2014-present, Board of Directors, Chairperson
Kaniksu Community Health 2017-present, Board of Directors
Lake Pend Oreille Repertory Theater 2019-present, Board of Directors
Panida Theater 2011-2014, Board of Directors
Sandpoint Airport Planning 2013-2015, Advisory Board
Sandpoint Urban Renewal Agency 2013-2017
Kate graduated from Pocatello High School in 1977 and attended college at Idaho State University and Whitworth University. She has certification from Boston College's Carroll School of Business in corporate social responsibility.
She and her husband, Dave Lovejoy, have four grown children and eight grandchildren.